MEET INFORMATION
Admission: Spectator admission is $7 for adults and $5 for students 12 and older. Children under 12 are free.
Waiver of Liability: Each institution and individual will be required to provide either a certificate of insurance or waiver of liability. The waiver of liability forms can be found at the top of the Schedule page at jdlfasttrack.com. Forms will be available to fill out at packet pick-up, but we urge schools and individuals to submit their documentation prior to the meet. Only one form is needed for the entire season.
Athletic Trainer: JDL Fast Track will be providing a certified athletic trainer on-site during the competition. Schools not traveling with a trainer should send supplies, such as tape and pre-wrap, as the on-site athletic trainer will have limited quantities of those supplies.
On-Site Food Vendor: Tropical Smoothie Cafe will be on-site during the meet to provide food services to teams, officials and spectators for this meet. Teams interested in purchasing catering from Tropical Smoothie Cafe may contact Karli Prestandrea at 336-624-5994 or Karli.prestandrea98@gmail.com.
T-Shirt & Photo Vendors: T-Shirts will be for sale at the event. They will be a "Technical" T-shirt with the event logo and will be sold for $10 each. You will also be able to purchase Finish line photos printed on a shirt for $10. You can also purchase the finish line photo on photo paper for $10. Photos will also be available for sale on site and online.
Timing & Results: Fully automatic timing will be performed by TimingInc.com Results will be posted at TimingInc.com and on JDL Fast Track's website.
RUNNING EVENT INFORMATION
Check-in Procedures: This meet will use a First Call/Final Call procedure. All athletes must check-in at the clerks table when their Age-Group/Event is called. Any athletes failing to check-in within that time frame will be scratched from that event. NO EXCEPTIONS!! After checking in athletes will receive their hip numbers, heat and lane assignments. Athletes will be walked to the start of the race.
Seeding/Heat Sheets: Performance lists will be distributed via email to coaches/athletes on January 12, 2018, and will also be posted on the JDL Fast Track website under the Schedule tab.
Trials/Finals in 60/60H: In the 60m Dash and 60m Hurdles, separate trials and finals will ONLY be conducted if there are 9 or more athletes in the heats. If 8 or less athletes report to the start line, there will only be one round of competition. If only one round is contested, it will occur in the time slot allocated for FINALS.
Check-in Procedures: Field event athletes must check-in to their field event sites no later than 30 minutes prior to their competition. Any athletes failing to declare within that time frame will be scratched from the event. NO EXCEPTIONS!!
Implements: Athletes will be responsible for providing their own implements. Field Event Attempts: No "finals" in the Shot Put, Triple Jump, and Long Jump. Each participant will get four attempts.
SCHEDULE
Tentative Schedule: In all running events, the girls will go first followed by boys. Additionally, slower heats will precede the faster heats. A final schedule will be sent to all coaches via email no later than January 11th 2018.
9:00 AM Track Opens
9:30 AM Officials' Meeting
10:00 AM Coaches' Meeting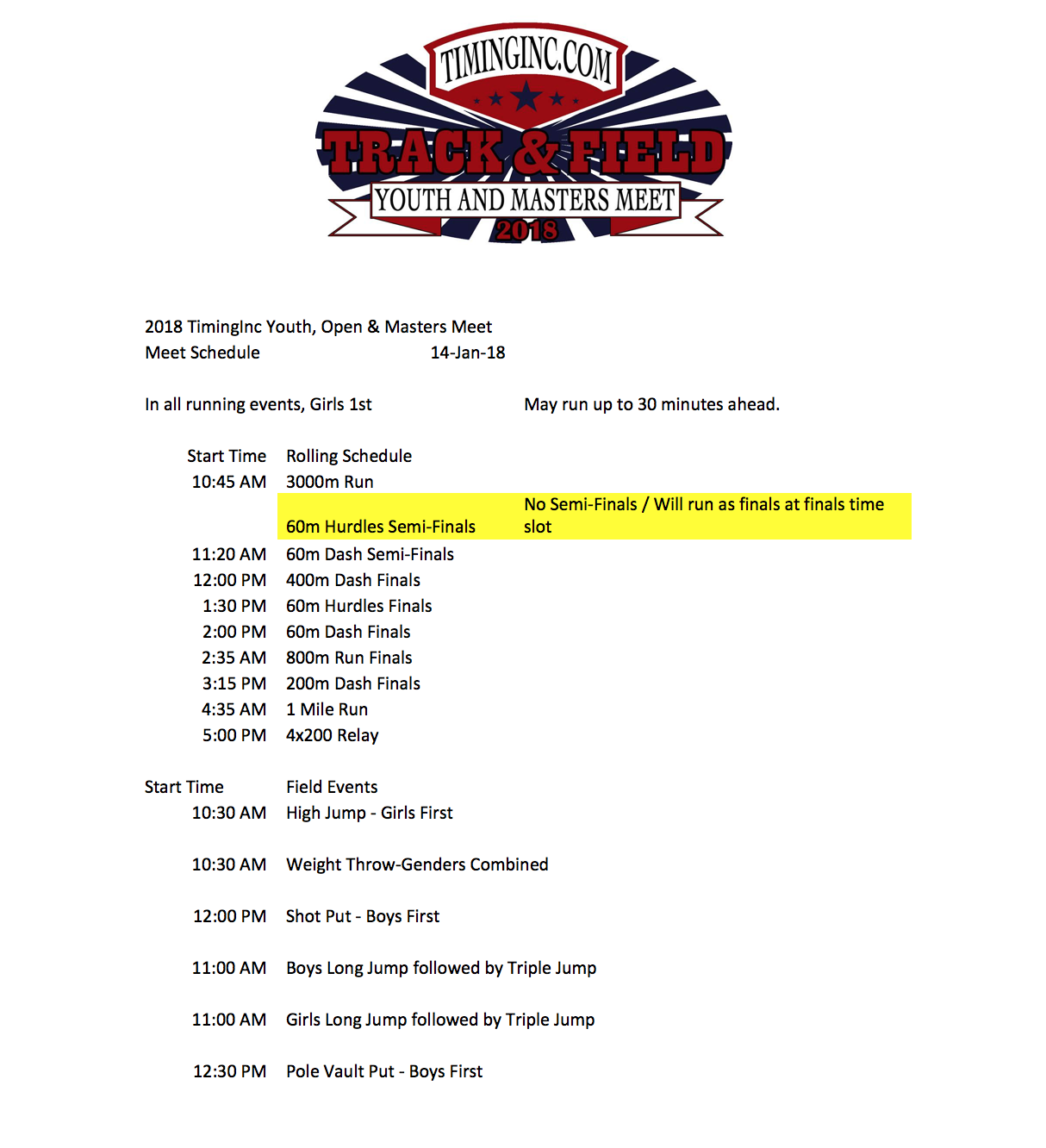 Meet Contact Info: Jimmy Stephens (Meet Director):
jimmy@timinginc.com
Craig Longhurst:
craig@jdlcastlecorp.com 336-448-1656
Veronica Rodriguez:
veronica@jdlcastlecorp.com 336-448-1657